UK manufacturing output at its highest for 10 years
UK manufacturing output is expanding at its fastest rate since early 2008 after recording a seventh consecutive month of growth in November.
Renewable energy projects, boats, aeroplanes and cars for export helped make output 3.9% higher in the three months to November than in 2016.
Official figures also show industrial output rose by 0.4% in November.
Construction output in the three months to November fell by 2%, compared with the previous three months.
That was the industry's biggest quarterly fall since August 2012, with the only bright spot for the sector being a 1.2% increase in new housing.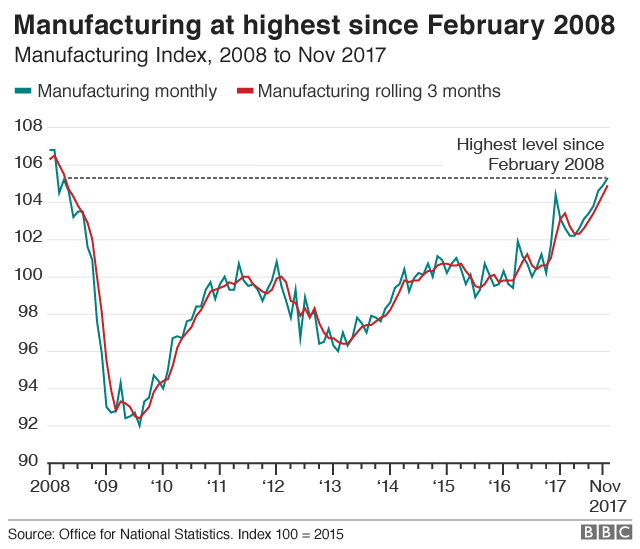 For the month of November, total production was estimated to have increased by 0.4% compared with the previous month, with the biggest contribution coming from energy supply.
This increased by 3.2%, mainly because the temperature was warmer than average in October, but colder than average in November.
Economic growth had slowed in the first nine months of 2017 with higher inflation caused by the fall in sterling after the Brexit referendum, although the UK economy did grow by 0.4% in the three months to September.
While the manufacturing figures are good, it is important to note that the sector only makes up roughly 10% of the economy.